An Overview Of Google Accelerated Mobile Pages (AMP)
August 25, 2021
Everybody is using their smartphones and tablets these days to access information on the web. Many web publishers provide information to the users solely through the mobile web. Problems arise when web pages take too long to load. When this happens, publishers lose readers and often a chance to increase their ad revenue. Visitors on websites often abandon a page if it is taking too long to load. Think about how you feel when you try to access a webpage from your mobile device but it takes too long to load. Sometimes you may be tempted to hop on your laptop to visit the same web page. Google's new product launch is aiming to change this scenario.
Google's accelerated mobile pages (AMP) plans to increase the performance of mobile web pages so that they do not stall. They want mobile pages that are rich in content such as with graphics, animation, and video to load quickly. Additionally, it does not matter what type of tablet or phone that you are using. AMP will make the web page available across many different types of platforms so that content appears instantaneously everywhere on the mobile web.
Google AMP relies on AMP HTML, which is designed to make websites lightweight. It makes it possible to collaborate with more than 30 publishers from around the world. It will make the mobile web work faster for everybody. Anyone interested in this project can look forward to.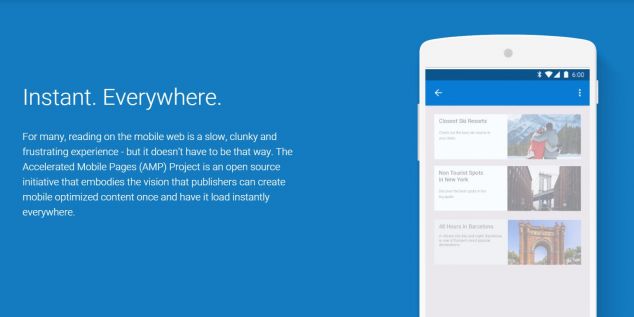 Fast Content With Google Accelerated Mobile Pages
Content producers rely on a quick web interface to deliver their dynamic content such as images, plugins, videos, and math. With AMP as an open-source medium, it allows content producers to concentrate on publishing great content while leaving the backbone of the delivery systems to AMP.
Superb advertising
Publishers that are using AMP do not have to worry about their advertising networks. AMP HTML does not take away from the user experience by generating obtrusive ads. These advertisements are very well integrated into the system so that they can keep Google services free. Additionally, each ad type will be checked to ensure that they do not detract from AMP's speed.
Increased Distribution With AMP
Google has developed a global cache that is high performance. Integrated with the AMP program, this cache allows publishers to display their content instantaneously anywhere on the globe. Think about how happy you are when you see that Google has a cache of an old web page. This high-performance cache mimics the cache on their search engine results page.
Google's AMP promises to bring speed to mobile web pages. This speed will greatly enhance the users experience while surfing these types of pages. No longer will users be stuck on mobile pages that take a long time to load. Instead, AMP highlights include fast content, superb advertising, and increased distribution and superb advertising all on Google's reputable framework.
Contact your Software Development Company to find out how you can apply AMP to your website.
Resources: https://www.ampproject.org/
Request a Project Quote