Your Six Keys To A Better, Mobile-Friendly Web Design
June 2, 2018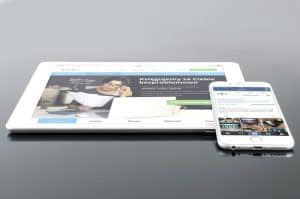 In case you didn't know, Google's latest algorithm powered by the dreaded "Mobilegeddon" is punishing those sites that aren't mobile-friendly by decreasing their ranking. The whole idea may have emanated from the discovery that mobile-based search queries had surpassed desktop. So, all desktop sites failing to follow the rules risk facing a sharp decline in traffic and the subsequent SEO ranking.
It's a blow to anyone who isn't tech-savvy, including the current crop of digital marketers. Well, unless they have the correct information and the right measures to mitigate just that. Call them the right keys to a better, mobile-friendly website, if you are looking to stay clear of the problems, follow them.
Understand Usability
In any website including the mobile-friendly ones, usability is gold. To better get this clear, view your site on your mobile device. If you are having difficulties zooming and viewing the various aspects, then that's exactly what your mobile-based visitors are experiencing.
But, a responsive website isn't always the alpha and omega
Depending on how you view it, a responsive website that responds to the visitor's browser and its resolution may seem like the only key. But, sometimes such an idea isn't viable as much as what a dedicated mobile website can be. A separate mobile site comes with a host of benefits including the enhanced user experience. You might need to try it out, perhaps it costs less than an ordinary website.
Watch the latest trends
From several industry insiders who have been looking at the most recent happenings over the years, the current trends tend to lean on making everything simple and minimalized. From the website design to the UX, a lot has been focused on keeping everything in place. Some of the notable trends include "hamburger menu" and the mobile UX functionality of using complete forms.
Know your audience and their needs
You may have incorporated the very latest trends in your mobile-friendly website, but you aren't done just yet. A slight glimpse at the sites of your competitors will help you debunk what you have been missing. From the content layout and their site's core functionalities, you will quickly discover what you need to stay on point. Aside from using your competitors, split tests can be ideal.
Focus on cross-platform compatibility
With mobile-friendly websites, designing content logically and in an aesthetic manner need no further emphasis. From its topography, the fluidity of the navigation, clear, clickable buttons and replaceable icons (those that include Home, Contact and Newsletter Sign-up) and zero boring popups, the process isn't so hard. But, take your time on each aspect because all of them are perfect for the user's ideal experience.
Your Call-To-Action must be bold, bright and striking
As arguably the single most important feature of your website, CTA buttons are there to influence a user into completing a particular action. The button initiates interaction and conversations and ensures that you as the owner achieve what you need. Therefore, making it clear, easy to read and understand and compelling is expected.
The Parting Shot
By and large, the basis of making it mobile-friendly dwells on what you would like to achieve. Keep it simple, concise, suave, and compatible with your audience. Do not forget to test it continuously because that's where you can discover if indeed it's working.
For SEO services, contact an Organic SEO company.
Request a Project Quote